Visa Debit Card Details
Accepted worldwide
Use it just like a credit card
Shop anywhere, even online
More secure than cash
Get cash from any ATM*
*Certain fees may apply when using ATM locations not owned by First-Lockhart.
IMPORTANT Pay-At-The-Pump Information
Due to increased debit card fraud at pay-at-the-pump for fuel we will now require pay-at-the-pump transactions to be PIN based. You will no longer be able to press Credit and complete the transaction(you will be able to use the credit option by going inside the store). Please use the Debit Card option and enter your PIN just like when withdrawing cash at an ATM. This change will take effect on November 19, 2018. This will only affect pay-at-the-pump transactions. If you have any question please contact Client Services at 877-398-3416.
---
Digital Wallet
Pay with your First Lockhart Debit Card right from your phone!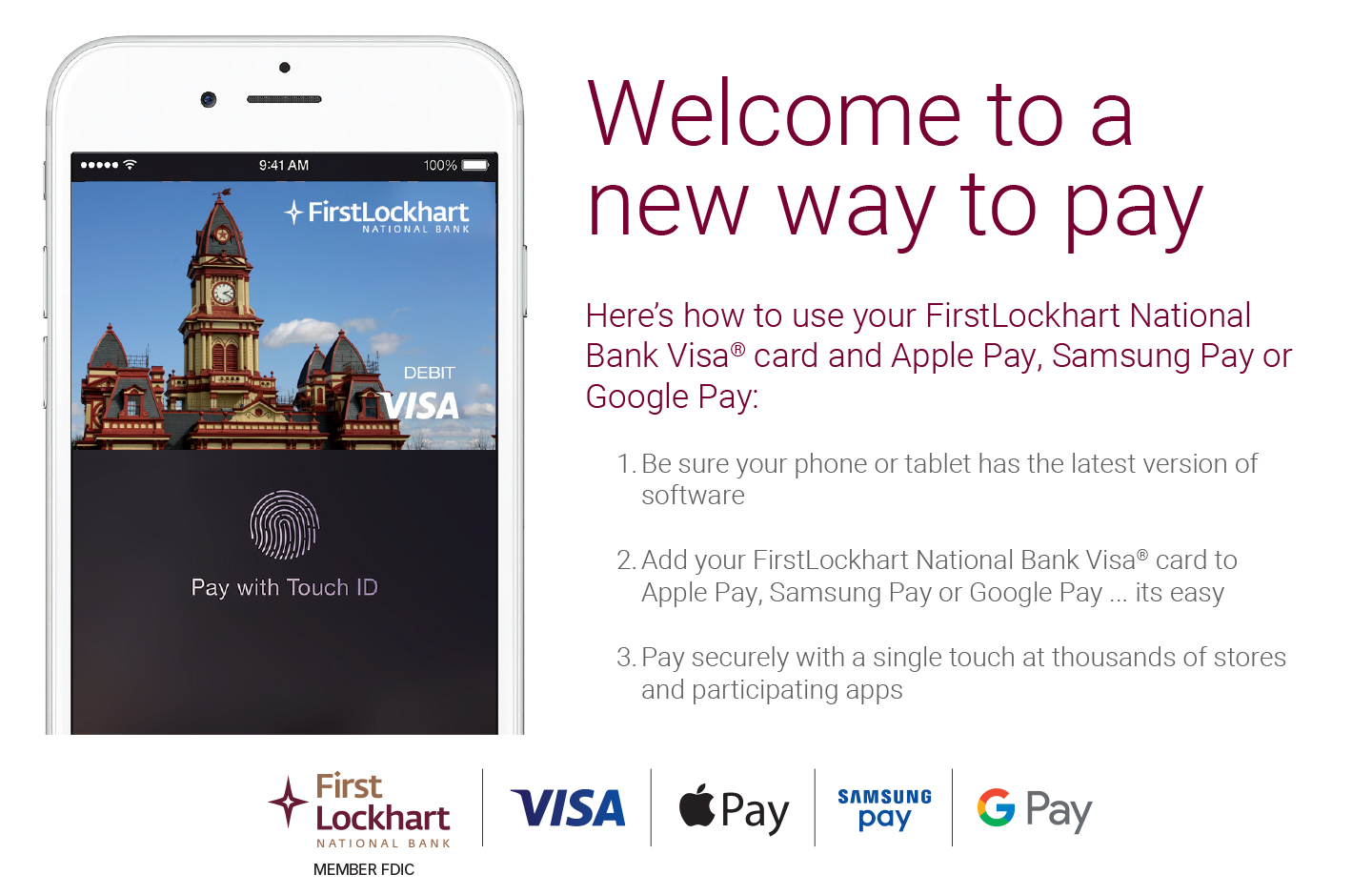 Verified By Visa
New protection when you shop online. First-Lockhart is committed to making online shopping safe for our customers. That is why we're pleased to offer Verified By Visa, a safe and secure way to add additional protection to your online shopping experience when you use your Visa Check Card. It is convenient, easy to activate, and the service is entirely free.
Key Features of Verified by Visa include:
a personalized password that you choose, so you're the only one who can make purchases with your Visa Check Card.
access to special offers and discounts from hundreds of participating online merchants.
no additional fees for Verified by Visa protection and it's a free service designed to protect you from fraud.
Please note: Once you enter the Verified by Visa site, you will be asked to enter your Visa credit or check card number. From there, you will be taken to the appropriate registration site for your card type.
---
FirstLockhart ATM card
PIN required
Get cash from any ATM
Use FirstLockhart ATMs free
ATM Locations
FirstLockhart has 6 ATM locations that are FREE for our customers.
ATM (Inside Main Lockhart Lobby), 111 S. Main St, Lockhart, TX 78644
ATM (24/7), 207 W. San Antonio St., Lockhart, TX 78644
ATM (24/7), 1816 S. Colorado St., Lockhart, TX 78644
ATM (24/7), 319 W. Slaughter Lane, Austin, TX 78748
ATM (24/7), 800 W. FM 150, Kyle, TX 78640
ATM (24/7), 2507 Hunter Road, San Marcos, TX 78666
---
MasterCard
With the First-Lockhart Card, you get a credit card that's accepted all over the world, travel benefits, and more. Plus you get the personal service First-Lockhart is known for. Take advantage of a low interest rate and no annual fee -- get your First-Lockhart Card today!
No annual fee for non-mileage card
Generous credit lines
Gold & Platinum available
Free Flex Miles points for every dollar spent
1,000 bonus miles just for opening your account
No blackout dates or seat restrictions
Pre-trip assistance
Emergency ticket replacement
Online account access
24-hour card member services
---
SecurLOCK Equip - Debit Card Controls
Prevent fraud if your card is lost or stolen by turning your card off from your phone.
Control spending by setting limits on withdrawals or transactions.
Customize spending ability of online, mobile or in-store purchases.
Set alert notifications for each time a transaction is made.
Block international or out-of-area transactions.
---
Report a lost or stolen Card